SINNERS & SAINTS
Sinners & Saints (with an introduction by Peter Weiermair) was published by te Neues in 2005. It contains a collection of previously unpublished images and fashion spreads from 2000 to 2004.
TOUCH ME VOLS. 1-3
Three large-format volumes (Editorials, Stories and Nudes) containing selected works from 2005 to 2009. Remain unpublished since their conception in 2010.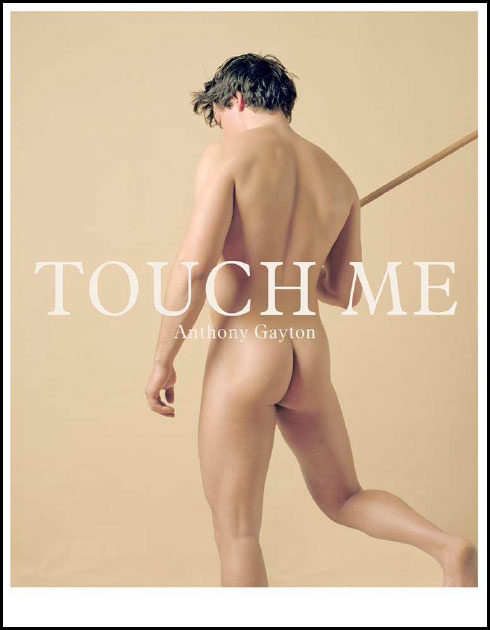 EXHIBITION CATALOGUES
'Geheimsache: Leben' Löcker Verlag 2005
'The Angelus & Other Stories' (with an introduction by Edward Lucie-Smith) Self-published by MiTO Art Gallery 2006
'The Fall' Self-published by MiTO Art Gallery 2007
'Behold The Man' Self-published by MiTO Art Gallery 2009
'Das Porträt: Fotographie als Bühne' Verlag für moderne Kunst Nürnberg 2009
'De Pictura – En Defensa de la Belleza' EMAT – Ajuntament de Torrent 2010
'Photography is the Medium of Desire' Leslie-Lohman Gay Art Foundation Inc. 2015
INCLUDED IN BOOKS:
'Waschbrettbauch und Wespentaille. Der Traum vom schönen Mann'  G. Tobias Natter (Selbstverlag/Österreichisches Lesben-, Schwulen- und Transgenderforum) 1999
'Mein Schwules Auge 3' Axel Schock/Rinaldo Hopf (Konkursbuchverlag) 2006
'Man to Man: A History of Gay Photography' Pierre Borhan (Vendome Press) 2007
'NightVisions – Contemporary Male Photography' (Bruno Gmünder) 2008
'Hotel de Dream' Edmund White (Domaine Étranger) 2009 (cover)
'Project 7 – a MODA loro' Peter Weiermair (Grafiche Dell'Artiere) 2010
'Hotel de Dream' and 'Zuch' (A Boy's Own Story) Edmund White (Biuro Literackie) 2012 (covers)
'Eyemazing – The New Collectible Art Photography' Eyemazing Susan (Thames & Hudson) 2013
'Beards – An Unshaved History' Kevin Clarke (Bruno Gmünder) 2014
'Fulvio' Alain Darne (H&O éditions)  2016 (cover)
---
ERRATA
Two exhibition catalogues have been printed with major errors in the text.
The Fall, MiTO 2008. The story 'Falling Awake' was inexplicably retyped from the original English by a Spanish gallery assistant, creating multiple errors and hideous spelling mistakes, all of which were printed in the catalogue. Owing to time pressure and financial constraints, it was not possible to reprint. The original English version of 'Falling Awake' can be found on this website under the section 'Stories'.
Photography is the Medium of Desire, Leslie-Lohman Art Foundation Inc. 2015. With no permission from author, the museum added their own punctuation to the limerick, and the personal statement was rewritten, altering and totally corrupting the meaning of the first and last sentences. The original text reads as follows:
'The Collector' belongs to a larger series of loosely connected projects I developed between 2008 and 2009, exploring various aspects of the kiss: from the kiss of betrayal and the kiss of requited or unrequited love, to the freely-given kiss, or the kiss withheld. Told in bawdy limerick form, and illustrated with a single image, 'The Collector' is a kind of reverse Pygmalion. The desire is neither for beauty-made-flesh nor the soul, but for power through ownership: the kiss of possession.
The original limerick can be found in the section 'Nudes'.